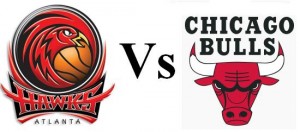 The Hawks take round 1 decisively versus the Chicago Bulls and it was in Chicago. I was impressed. I still do not like the way we played (you can see I am never happy). We won because of individual talent and nothing else. Here is what I observed and would like to see:
1. The flagrant on Josh Smith was bogus. Kurt Thomas grabbed his arm and pulled it down into his head. If the league reviews it, I would expect them to eliminate the flagrant. I thought they could review flagrants but they chose not to. I am not even convinced it was a foul on Josh Smith. I think they could have called the foul on Kurt Thomas. Problem is that I assume Atlanta will not send in the play for review because the postage is too high and not in the Atlanta Spirit budget.
2. Marvin Williams got caught for using the arm to clear out on a shot. Late in the 4th quarter, Boozer, used a 2 handed push to get open off a pick and then used the same arm to clear space on a dunk, no call. Call it please. Ha ha, that will never happen
3. I thought ZaZa Pachulia got away with that pull but 2 seconds later, he got the whistle. My suspicion is the ref wanted to see if Rose got to the hoop and if he did he was not going to blow the whistle. This is the conspiracy theory in me.
4. Why do we cover Noah so tightly when he is at the top of the key. Our center should sag off him at the free throw lane to cut the driving lanes for Deng and Rose.
5. I like how Atlanta went under the picks when covering rose and the big covered Rose up top until the guard had time to recover. A couple times later in the game the center did not cover Rose as our guard went under and he burned us. Either way, I think we need to continue to go under the picks and let Rose shoot jumpers. If we lose on Rose jumpers, I am okay with that.
6. Broken record. Smith needs to go in the paint on every possession. We need to start him closer to the rim. Do not feed him the ball at the 3 point line. Make him stand closer in. I would not even mind if they run some isolations for him. He can take anybody. If we had a real coach, I think Smith could average 20/20
7. When we rotate the ball, nobody cuts. In the odd chance we do cut, the cut is always around the perimeter. We rarely have guys cutting towards the hoop. Orlando cuts to the hoop, Deng cuts to the hoop, Rose cuts to the hoop. We need to join the party.
8. Jamal Crawford needs to go to the hoop on a fast break. I love Crawford but when we have numbers we need to get the sure 2. He likes the open long two when he could go straight to the hoop and maybe get fouled. Fast breaks affect momentum both ways. Mess it up and it kills it, make it and you have it.
9. We need to show the same energy in game two. Hopefully, we are not happy with one on the road like last series. Treat game two like we lost game one. It won't happen though, unfortunately (please, prove me wrong).
10. Why was Rose covering Crawford with 5 seconds left down 8. Reminds me of how Portland was covering Baroa tightly with a few seconds left down double digits. Somebody on Dallas set a hard screen, rightfully so, and then Portland complained about it being a cheap shot even thought it was legal. Understand when you have lost and play accordingly. Why did Rose cover him. Tweaked his ankle. We need to jump on game two while his ankle is still gimpy. We can talk about how unfortunate it was about Rose in the off season but for now, run the guy around, make him change directions. People do not care that we lost Hinrich, I do not care about feeling sorry for Rose. Take advantage of it. Take an early lead, make the guy work. If we let them run away with game 2, Rose will get to rest.
I cannot wait until Wednesday.