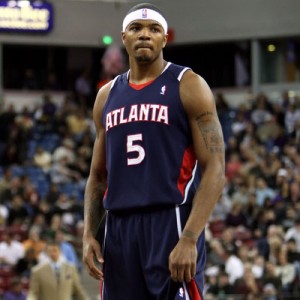 Dear Josh Smith,
Nobody hates you, please get that out of your head. I will lay out exactly what people think of you and why:
1. You are a local product, you are one of us. We love you.
2. TO (Terrell Owens) is a loser. Please do not do yourself the disservice of comparing yourself to him any way. He had some talent but he was the pure definition of a clubhouse cancer. He was confrontational to his own teammates; Jealous of his teammate's success. He only wanted praise, he did not care about the team. He forced teammates to pick sides. Look at every place he went, he left the place in ruins. He tries to play the victim everywhere he goes after lighting the fuse. He is a menace with replaceable talent.
You, Josh Smith, have never sold out a teammate. I have only ever heard you say good things about your teammates even during the rough stretches for the team, for which there have been many. You have always given your teammates praise and have always said your teammates had faith in you. Plus, I have never heard a teammate say one bad thing about you. You are a team player and do not ever insult yourself by comparing yourself to Terrell Owens.
3. You have never had any off the field issues. Big money came fast and you stayed out of trouble. No gambling issues, no legal issues, no drugs. You have stayed out of the non-sports columns and that deserves some praise. You became a pro at 18 and have cameras presumably following you all the time waiting for you to mess up off the court as many a player does, but you have not and that takes mental fortitude.
4. You have endured and continue to endure the worst owners in the history of all sports. I pray everyday that Mr. Blank buys the Hawks since he missed out on the Braves. I wanted Belkin over the ASG because at least showed he was financially disciplined vs the ASG who collectedly are poor and idiots. Leadership starts at the top and you have had to navigate these murky waters without anyone steering this ship in the right direction. You have had to deal with the lying pirates called the Atlanta Spirit who bought the team in court deemed shady transaction and have been shady ever since blaming and suing everybody they can including their own lawyers to cover for their ineptitude. I praise you, Josh Smith, for staying in Atlanta and getting fans exciting when the owners do not care a damn about the fans.
5. You have endured the worst coaching of all time. This is related to ownership. Ownership that wants to pretend they care but then go on the cheap. Coaches who do not make adjustments, who have no previous experience, who are too concerned about being your friend rather than mentoring you. You have taught yourself how to play and have come a long way and are so close to becoming an all star.
6. You never get praise from the media. LeBron throws a windmill dunk in a blowout game and he gets praised. You do the same thing and are told you do not get it. Worse yet, your previous coach Woody, who was overly concerned about being liked by the opposing team, makes you apologize to their team. If they do not want you to dunk, they should take care of the ball. Young man, if you are close enough to the basket to dunk, please do it and do it as emphatically as humanly possible. I also remember a game a couple years ago where you ran down the court and swatted a ball from behind. Unfortunately, your legs got tangled and the shooter went flying. The commentators were all over you saying it was dirty. It was 100% a play on the ball. Wade does the same play, praise from the commentators. Commentators have their favorites and those favorites can do no wrong. The unfortunate thing is they have their least favorites and you can do no right. The worst offender is Jeff Van Gundy. The worst writer who makes it clear he hates the Hawks and uses adjectives clearly showing he has lost objectivity is Hollinger. See his writeup on Jeff Teague before this Bulls–Hawks series started. The way he wrote about Teague was as if Teague had personally offended Hollinger at some point. It is true, some people in the media just do not like you and I agree it is not fair but rest assured it is not the people in Georgia that do not like you, we love you which brings us to the most important point…
7. We love you in Georgia. Nobody hates you in Georgia. Nobody boos a guy that stinks so clearly nobody thinks you stink. You are guy that should average a 20/20. We boo out of frustration knowing how good you are. To be an elite basketball player does not mean you have to do everything well. I have no doubt that if you needed to be a good shooter, you would end up one but you do NOT need to. You have the talent to get to the hoop and slam the ball. There is nothing more devastating and deflating than a thunderous dunk. Your game makes the other players better. You open the court for everybody inside and out. Al Horford broke out because of you. JJ got open shots because of you. Teague had less pressure to facilitate because of you. You are an awesome and unique talent and that is why we boo. We do not boo because we hate, we boo because we love. We know the 4th quarter Josh Smith of game 4 is the Josh Smith that will bring us through this series. Carlos Boozer cannot keep up with you, drive right by him. Boozer cannot shoot over you. Noah cannot out muscle you, back him down. Gibson is no match for you.
We know the Bulls do not have anybody who can stop you and you are the key to our happiness. We also know you are the only one who can stop you and that is the Josh Smith who shoots fade away jumpers leading to easy transition for them.
You will not remember this but I went to see you play in San Antonio a few years and took my daughter to her first game when she was 3 months old. The Spurs opened up a huge 20 point lead I think after one quarter and the game was never close. I was over the tunnel pointing out players to my 3 month old as she presumably had no idea what was going on. Despite the huge loss, you saw I had a Hawks hat on, and probably saw my daughter and gave us your headband. That was my daughter's first game souvenir and it is in a plaque so she can tell her friends that she got that Hall of Famer headband when he was simply the slam dunk champion, but she knew he was more than that. He was the the leader of the Hawks.
Josh Smith, we love you. Bring us victory my friend.