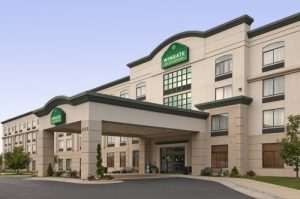 We decided to head to Cincinnati straight from Sandusky and not spend any time at any of the cities in between. We did not have a hotel booked for the hotel where the Cincinnati wedding was located until Friday so we needed a place for Wednesday and Thursday. I did not find anything great doing my regular online searches so I took a hotwire.com. Found a place with a great reviews. As always, the main criteria to keep the kids happy is a pool. My ideal criteria is a heated pool preferably indoors. This one had an indoor heated pool and a free breakfast with great reviews at a reasonable price.
Made the purchase online and anxiously awaiting the unveiling of hotel…
It was the Wingate by Wyndham – Cincinnati – Blue Ash
This hotel was awesome. It was in a high end neighborhood. Right across the street was a huge park with a state of the art play area for kids. Parking was easy, check in was a breeze. The rooms felt very new and were spacious. The lobby was very modern and clean. We were on the 2nd floor so only one small flight of stairs to breakfast and the pool.
The pool was big and not the warmest, but good enough. Plenty of towels present and an attached bathroom. We brought all our pool toys so we had fun. There were a few people enjoy adult beverages in the evening but it was always family friendly. The hot tub was also nice and warm.
Breakfast had a good mix of everything with reasonable hours, we all enjoyed it and loaded up on coffee.
The rooms were spacious and had a nice flat screen tv. The bathroom was very clean and there were plenty of hotels.
As for the park across the street, it was amazing. It was a park like no other I had seen. They were actually setting up for a big concert/festival on the weekend. When we checked out on Friday morning, Third Eye Blind was checking in for the weekend.
Overall, if the price is reasonable, I will look for this hotel again.