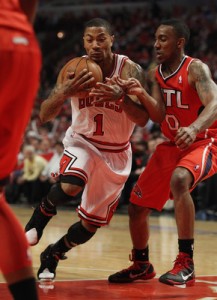 They surprised me against the Magic. I did not think they would be able to close it out. I think we have talent but I still do not like the way we play. Imagine if we had a real coach. Only a dream with the current owners.
But I look at the matchups against the Bulls and say why not. Here are the matchups as I see them.
Point Guard
I assume either Jeff Teague or Wilkins or both will play the point against Rose. Clearly Derrick Rose has the advantage. The key for Atlanta is going to be to force Rose towards the help and not let Rose go where he wants. Easier said than done. Big advantage to the Bulls.
Shooting Guard:
JJ vs Keith Bogans. The advantage the Bulls had at the point, is true for Atlanta at the 2 spot. Hopefully, Joe Johnson does not settle for jumpers and goes hard to the lane and shoots his little floater in the lane. I do not think Bogans can cover Joe Johnson and I do not think too many people can, especially since JJ can post you up, shoot distance, and drive to the lane.
Forwards:
I am going to lump these 2 positions together because I think we need to mix it up and we have versatile players who play both.
Marvin Williams vs Deng, Josh Smith vs Deng
and Josh Smith vs Boozer, and Al Horford vs Boozer
Luol Deng has the advantage over Marvin. Taller, longer and more consistent. However, but if Marvin is in, then I assume Josh Smith plays the PF and is quicker and longer and more athletic than Boozer. I think Boozer is overrated and is good in spurs but has never been a big game player. Add turf toe, and he has his excuse built in. Josh Smith, assuming he decides not to settle for long jumpers, should be able to slide right by Boozer anytime he wants.
If Atlanta tries to play an actual big like Collins or Zaza Pachulia then I think Josh Smith has the advantage over Deng if again, Josh doesn't settle for long jumpers because I think, at worst, their offense is even. I think Josh is a superior athlete and he is definitely a much better defender. In that case, Horford then plays Boozer. Both have similar styles of play. Slow, methodical. I think that is a wash.
Center:

Horford/Zaza/Collins vs Noah
I think Noah and Zaza are mirror images. High energy guys who annoy the other team. Scrappy guys who get cheap points, dirty fouls, key rebounds and just play hard. Neither one is an offensive threat except on offensive rebound put backs. If Horford plays center, he should dominate Noah and should post him up every play. He put 30 on him once in the regular season. I assume Collins will not play much as he is too slow to cover a quicker Noah and should only come in if one of Chicago's backup centers come in. Plus, Collins probably needs more days for the bruises to settle down from the beating he took from Howard.
Coaching:
No content Thibedeau is much better than Drew. I do no think our players listen to Drew but we survive on individual talent. I think that can still work against the Bulls. Stop Rose and you stop the Bulls.
I think we can win this series.
On an aside, the Grizzlies are for real. They play pure basketball. Great in the post, great defense, block outs, ball rotation, great team. If they play the way they have been, I think they could win the title.