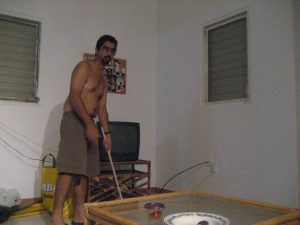 School is good, overwhelming for sure; lots to learn. I feel dumber and smarter. The island is peaceful. I snorkeled to school today. Normally, I ride my bike. It took about an hour to get to school. My roommate decided to skip class in the morning and forgot I snorkeled as he was supposed to bring my glasses and computer and dry clothes so I sat in class all wet and unable to see. It was funny (I have prescription goggles for snorkeling).
The snorkeling is amazing and the diving is supposed to be better I just haven't gone yet. It is like swimming in a luke warm bathtub in terms of clarity with so many fish; it is amazing.
After a couple weeks here with Hibah and Tannu, I told them I think they should go back to States. There is nothing here for kids. no playgrounds, no sidewalks, and actually we barely see any other kids. I want Hibah to be around other kids. She can entertain herself with a couple toys but I didn't want to deprive her of a joyous 3rd year of life because of my choice to come out here. That, of course, is the hardest part being out without the 2 of them. Otherwise, it is a peaceful island with not much going on. About 13 thousand people live on this island. Everything is closed for 2 hours for lunch including 1/2 the restaurants.
As for the other students, most are pretty messed up. Some are good students but all of them act as if they have never been out of their houses in the US before.