Friday
I left from work and met the kids at the Okemos Library. We picked out a few movies and books for the road and then headed over to my place to finishing packing, pick a destination, and head out. While we were driving home Hibah looked at weather reports on her phone. I had done a similar thing earlier in the day but wanted them to participate.
Destination choices
New York City: Out due to the majority of the week having at least a 50% chance of rain each day
Nashville/Chatanooga: These were the 2 cities we skipped due to a lack of time during our Tennesse trip a couple years ago. Unfortunately, they also had a majority of rain
South Carolina: Rain, rain rain
Georgia: Much of the same, rain all the way
Missouri: We were planning on this trip for spring break a few years ago and when we looked the day before, it was under a heavy snowfall advisory. No snow is acceptable for spring break. We ended up going to DC which was around 70 degrees all week that year. This week, it had a low of 70 and highs in the lower 90s and minimal rain. So it was decided that this was the destination. None of the kids asked what there was to do as long as our hotels had pools, they said that is where they wanted to go.
So we finished off our grid of clothes and filled in the deficiencies of missing clothing items, packup the car and headed towards the first stop of St Louis at around 8pm. 30 minutes into the drive, we picked up some dinner and ate it in the car and drove. The kids watched a movie while I listed to my tunes. The GPS took us on Hwy 69 to I94 to just south of Chicago. The whole drive was to take about 7 hours without stops. The kids fell asleep before crossing into Indiana. We split onto I80 just south of Chicago.
After passing through Chicago traffic, I got gas in Channohon, IL at around 12:30am. I saw the Manor motel across the street. I looked at the reviews on Tripadvisor and they were decent however it mentioned they no longer had a pool. No worries, it was only going to be a quick stop so I pulled into the hotel and looked at the room, it was only $70/night
Manor Motel, 23926 W Eames St, Channahon, IL 60410 Easy access off I55 and it appeared to be a safe area. As mentioned, the trip advisor reviews were decent. It said it was nothing fancy but good for a nights stay. The room was huge with two queen beds. The place was dated but clean. It appeared to be some type of historical building and apparently has been around for around 100 years. We had a room on the 2nd floor. It was quiet. We woke up around 8am (CST), got ready, checked out and left. No free breakfast and no pool. The staff was friendly. We did have to take the suitcases up and down an internal flight of stairs. I didn't see any elevator but we didn't need one. It was a wide majestic flight of stairs. Im still not sure what the difference between a motel and hotel is. I thought a motel meant you entered your room from the outside. This is the Manor Motel but you enter all the rooms from the inside.
Saturday June 17, 2017
We headed off and ate breakfast bars and drank water for breakfast. The kids were excited. We had about 3 hours to get to St Louis. We drove the bulk of the drive with a couple stops to poop and pee (I was the one who mainly needed to pee). Right before we got to St Louis, we stopped in Litchfield to eat. We drove down the main street and the kids decided on Dairy Queen. We ate outside as the weather was beautiful at around 75 degrees. While we ate I mapped out the days events. I called the St Louis gateway arch and the first tour they had was at 9pm so I opted for the next morning at 10am. So I decided on Grant Farms and the City Museum for that day. Best Western Plus Chesterfield. Showered that night.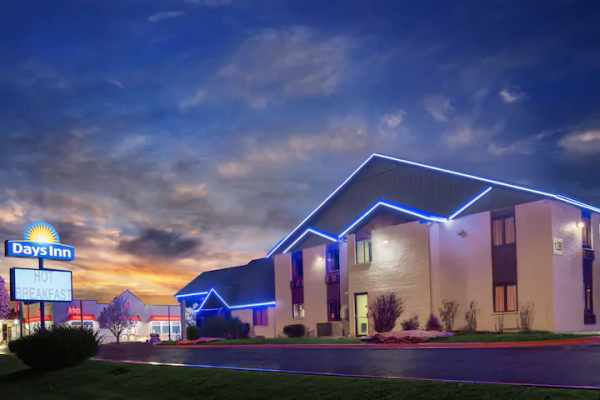 Researched all our Missouri activities that night. Found the best ice cream and best donut shop in MO. Also found the best zoo which was the St Louis zoo. The best amusement park and water park were both in Branson and were related Silver City
Sunday June 18, 2017
Got up at 7:30am, I got ready in 15 minutes then woke up the kids. They all got ready in 15 minutes. We at the free nice hot breakfast in the big kitchen and left by 8:30
Best Wester Plus Chesterfield: Nice room, but only two towels, grabbed extra. Matress really soft and you could hear the springs with every move. Two double beds. Nice big breakfast area and nice lobby with fancy water and fruit. They didn't clean our room and they were slow to bring towels to the pool even though they gave towels to others at the front desk. Key card didn't work when we came back which was annoying (he said it timed out). Check in was easy and used the travel coupon for $75/night.
Thunderstormed overnight and was wet and gloomy in the morning but not raining, in the low 70s.
St Louis Gateway Arch: The GPS was messed up and took us across the bridge to IL, but at was easy to navigate back. Parking is not easy esp surface parking but we found some street parking on Pine/7th and it is free on Sundays. It was not super easy to find the old court house to pick up the tickets. Decent walk, arch is impressive up close. Tallest manmade monument in the US and taller than any roller coaster (Jamal was positive the roller coasters he has been on were taller). We went up right away with no wait, stayed up top for about 15 minutes and came back down. Spent about 15 minutes in the gift shop then moved on. We paid $46 for 1 adult and 3 kids.
Went to Keiner park which is just southeast of the City Garden. The kids played there for about 15 minutes and then we went to the City Garden. The kids played in the splash pad for about 15 minutes. We then walked through the rest of the gardens and got back to the car.
Headed towards the zoo. Once in the overall zoo area, it was not clear at first exactly where the zoo is. The GPS takes you to the general city park area. People were parking about 1 mile away and walking on Governer road in the city park to avoid the $15 official lot charge. I was driving closer to make sure the zoo was actually near and see what close parking was available. Luckily as I got right near the zoo, directly across from the official zoo parking, somebody pulled out a large street parking spot so I swung around and took it. St Louis zoo: Free, ½ off adventure pass (train ride, 4d theatre, stingray, carousel, petting zoo) so each pass was half off 12.95 since we belong to potter park zoo. Purchased sting ray pix for $25. Watched the
sea lion show first at 1pm, then ate at the lakeside café which was large and the line moved fast. Then straight to the animal show in the petting zoo area. Went to the insectarium for the keepers chat at 2:00 which never happened so we went throught the whole insectarium then back to the childrens zoo for animal show at 2:30 which also never happened. The guide was there would be a keepers chat at 2:30 but nobody showed up. We went through the entire childrens zoo and finished the discovery corner then took the train one stop o the red section, then. Finished about 6:30pm (closes at 7pm). It was not very crowded, which was surpising for a beautiful Sunday (upper 70s)
Drove home and picked up Jack in the box across from the hotel. Ate in the hotel room which unfortunately had not been cleaned. Then changed and went swimming. It was a saltwater pool and was very warm (nice). At times, one family tried to take over the whole pool including the deep end with their football game. Swam for 1.5 hours, showered, and went to bed.