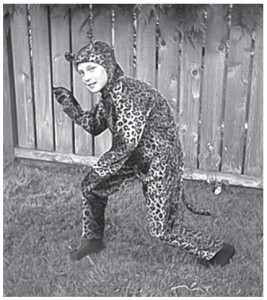 From: Jack Thompson
To: Bob Servant
Subject: GO TO WESTERN UNION
Hello Bob,
Sorry for what happened to you, hope you didn't get injured. Tell
your bank to send the money through Western Union. Money
transfer to:
Name:
Country:
State/City:
Branch:
This is my very good friend name and address that is working in the
bank. You will have to set a secret Question and Answer and be sure
to send me the answer.
As for the lions you can call them any name provided you shout
when talking to them and always use the same name. And trained
leopards like the one I have for you will wear any clothes you buy for
them OK. Please send the money today,
Jack
---
From: Bob Servant
To: Jack Thompson
Subject: Nearly back to 100%
Hello my good friend,
Thanks so much for your kind words. I have nearly fully recovered
from the fall and have just been chilling out ever since. I've still got
a large bandage on my head however, and am too embarrassed to
leave the house as then I'd have to tell people how I got the injury.
The boys would love this one. If Tommy Peanuts or Chappy Williams
got hold of it I'd not be able to show my face for weeks.
I should be OK tomorrow and will nip up to the bank then. Just a
quick question about the leopard, does it look a bit like this?
Good luck my friend,
Bob
---
From: Jack Thompson
To: Bob Servant
Subject: URGENT
HELLO BOB,
I HOPE YOU ARE GETTING BETTER. I RECEIVED YOUR MAIL, SINCE
YOU SAID TODAY YOU WILL BE GOING TO THE BANK PLEASE GO
THERE RIGHT AWAY. AS FOR THE LEOPARD THE SKIN ARE ALIKE,
THAT'S THE WAY IT LOOKS LIKE, SO PLEASE TRY AS MUCH AS
YOU CAN TO RECOVER SO YOU CAN BE ABLE TO GO TO THE
BANK. I WILL BE EXPECTING YOUR REPLY SOONEST.
THANKS.
JACK
---
From: Bob Servant
To: Jack Thompson
Subject: What a Let Down
Jack,
I have some bad news my friend. I have just been to the bank and
the guy there said that I cannot send you any money as I do not
have any in my account. In actual fact, it turns out that I owe them
over eight grand. I tried to explain that I needed to send you this
money for the lions and the leopard but the guy said I was a fucking
lunatic and got the security man to throw me out.
I'm really sorry Jack, I hope I haven't wasted your time in any
way, I can't see how I could have, but I'm afraid that the deal is off.
Good luck my friend, and good luck with the animals. If they get too
much then you'd probably be OK just releasing them?
Love,
Bob
---
From: Jack Thompson
To: Bob Servant
Subject: Urgent
Hello Bob,
You see do you really still need lions and leopard? I will help you out
sending it for you free but what you only have to do is to send just
$700 or $500 for shipping it to Scotland.
If you can go to another bank to send that money to me just take the money from home and tell them you want to send that
money through Western Union money transfer to that name i gave
to you earlier on. It is easy. Do it today.
Jack
---
From: Jack Thompson
To: Bob Servant
Subject: Urgent
Bob?
---
No Reply
---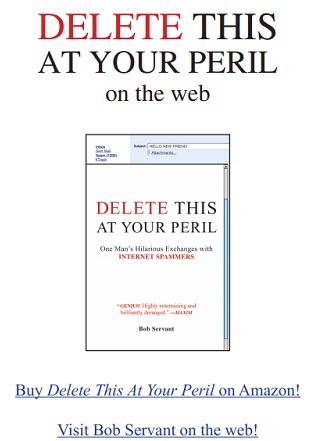 Note: Please provide valid email address, Pdf version of the Book will be sent to your email address.
[download file="https://oddtwist.com/wp-content/uploads/2012/06/Delete-This-at-Your-Peril-Excerpt.zip" title="The Book Delete this at your Peril"]